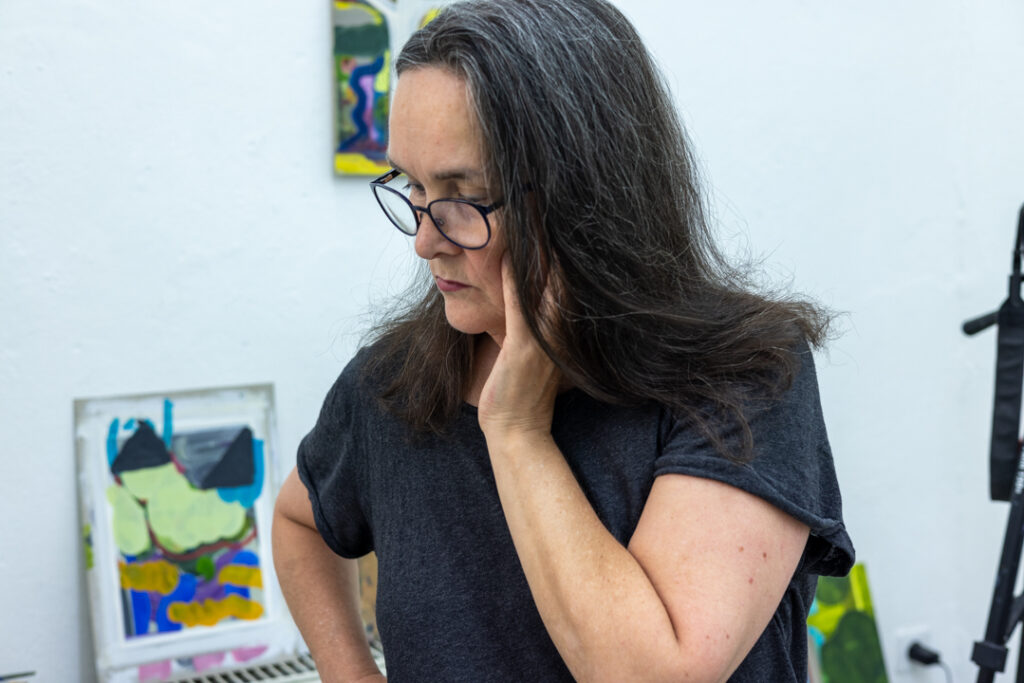 There is no singular answer as to what painting is today. This spirit medium fluctuates in non-linear time, allowing for multiple and opposing conditions to exist on and outside the canvas surface. I find this deeply fascinating and have been invested in its dialectical process of making for many years. Seemingly cordoned off and self-contained, painting calls upon the viewer, in what Barry Schwabsky describes, to become an 'interactive co-extender 'of the work. My work draws upon paintings extensive historical pool and conspires to expand, subvert and create new visual interpretations, presenting the viewer with a rich experiential encounter. The performative nature of mark-making, where touch and the handmade link like a shadow become inevitably tied to human presence. I make intimate, richly layered abstract painting interventions. When colour and touch align, the work becomes a poetic dialogue on the nature of identity.
Born in 1963, Butler-Aldridge grew up in Belfast. Sinéad earned a BA in Fine Art Painting at Camberwell Art College London 1985 and was awarded a DAAD scholarship in Germany in 1986. Returning to London she worked in a factory studio in Brixton producing large scale figurative abstract painting influenced by artists like de Kooning & Francis Bacon. Returning to the Republic of Ireland in 1991, she settled down on the North West coast near Sligo and taught Fine Art to BA students at the I.T Sligo for over a decade. Since her solo exhibition 'Fast time' at the Model Niland in 2002 Sinéad has chosen to work on a reduced scale. She has also produced video installations & performances. She completed her MA in Visual Arts Practices IADT Dublin 2010. Sinéad is married with twins and presently lives and works in Berlin, returning to Ireland frequently.
Solo Exhibitions include: Coming Out Of Winter (2023), The Irish Embassy Berlin. The Sky is Falling (2019), After Image (2015), Fenderesky Gallery Belfast. unattainable/joy- RHA Dublin (2010). Works & Days, Sligo Art Gallery (2008), Penumbra, The Dock Carrick-on-Shannon (2006), New Work, Fenderesky Gallery Belfast (2007 & 2003) Fast Time, The Model Gallery Sligo (2002)
Group exhibitions include: Comme un léger contretemps/ A Slight Hiccup, La Grange Gallery Cernay-lès-Reims (2022). Penumbra, FE Mc Williams Gallery (2020). Way Out, La Grange Gallery France, BEEP Painting Biennale Wales: 2020, 2018 2016. Take Place, Institut für Alles Mögliche Berlin (2019). Art Spring, Berlin ( 2020, 2019). Kaleidoscope Slovenia (2014). Die Sprache ist das Haus in dem wir .leben: Künstlerverein Malkasten Düsseldorf (2012) Accorage Gorizia Italy (2010). Occasion, Fenderesky Gallery Belfast (2009) Out of Context Archeus Fine Art London (2004). Irish Contemporary Art Galleri Weinburger Copenhagen (1999).
Sinéad is recipient of awards: Arts Council of Ireland (2004 & 1993) Íontas prize for painting (1996) Northern Ireland Film Council (1994). Residencies include: GlougauAir Berlin (2021), Oberfäelzer Kuenstlerhaus Germany (2017) Ballinglen Arts Foundation (2002) Maze Prison Belfast (1998) Artists Work Programme I.M.M.A Dublin (1997) Tyrone Guthrie Centre (1991). Her work is held in public collections: Nothern Ireland Arts Council, National University Galway, Mayo Co. Council. Ballinglen Arts Foundation. Boyle Civic Art Collection, Co Monaghan V.E.C & St Louise Comprehensive College Belfast.